<![if !vml]>

<![endif]>
<![if !vml]>

<![endif]>
9 June 1957, Empire Theatre, Liverpool. The Quarry Men auditioned for Carroll Levis, but failed. They auditioned again October 1959 as Johnny & The Moondogs, and later (28/10/62) as The Beatles proper.Furthur appearances were 24/3/63,26/5/63, 7/12/63, 22/12/63, 8/11/64 and finally 5/12/65. George returned on 6/12/69, with Delaney & Bonnie. 

An historic date at St Peters Church fete, Woolton, Sat 6th July 1957. Paul came to see the Quarry Men perform for the first time, at 15 years old.   

The Quarry Men performed here, the church hall over the road, in the evening.

The grave of one, Eleanor Rigby, buried in St Peters Church graveyard - fresh flowers are still placed on it to this day.

As it is now, not the original, which was to the left, and rebuilt as Cavern Walks Shopping Mall. They played here 200+ times between 7th Aug1957 & 3rd Aug 1963. It was here that Brian Epstein saw them for the first time. 

New Clubmoor Hall, Liverpool, 18th October 1957.Paul made his debut with the Quarry Men here.

   *The Quarry Men 18/10/57. Left to right is Colin Hanton, Paul, Len Garry, John & Eric Griffiths.

7th November 1957, Wilson Hall, Garston. The Quarry Men played here 4 time.

Yet to find the exact whereabouts of Stanley Abattoir Social Club, 16th November 1957, and The Morgue Skiffle Cellar (13th March 1958) has been demolished..

Woolton Village Club,Liverpool.24th Jan 1959.
* 15th Nov 1959, Carroll Levi's TV Search for a star, which they failed. The building was demolished in 1964.
The Fox & Hounds. Caversham, John & Paul played here on 23rd & 24th April 1960 as The Nerk Twins. At the time Paul's cousin Bett ran the pub.

Lathom Hall, Seaforth, Liverpool. The Silver Beetle/Beats played here 11 times between 14thMay 1960 & 25th Feb 1961, for Brian Kelly (BEEKAY) 

20th May 1960, the 1st night of The Silver Beetles Scottish tour, at Alloa Town Hall, backing Johnny Gentle.

21st May 1960, Northern Meeting Ballroom, Inverness, with Johnny Gentle again. The photo on the right is courtesy of Jamie Gaukroger of Am Baile Support,
High Life Highland - thank you. I've been & you can just make out the pub on the corner building is still there and is the Lauder.It was above these shops before demolition.

A Larry Parnes audition at the Blue Angel gave way to a tour of Scotland backing Johnny Gentle. They had no drummer so Tommy Moore went. He was late for the audition so Johnny Hutchinson (Cass & the Casanovas & later the Big Three) stood in to start.
Tour of Scotland with Johnny Gentle
Dalrymple Hall, Fraseburgh, 23rd May

St Thomas Hall, Keith, 25th May

Town Hall, Forres, 26th May

Regal Ballroom, Nairn, 27th May

Rescue Hall, Peterhead, 28th May

(Incidentally, this particular pilgrimage stands out as being the wettest & most miserable of all !)

Back to Liverpool, The Jacaranda, Allan Williams' coffee bar, firstly on 30th May & several times after. Allan assumed the role of their manager in the early days. The pic on left was taken a few years before it was done up.

The Institute, Neston, 2nd June, the first of 5 Thursday night gigs, paid £10..

Sat 4th June 1960, Grosvenor Ballroom, Wallassey, where they played several times, often with Gerry & The Pacemakers on the same bill.

......AND SO TO GERMANY......
(Now with Pete Best on board)
Tommy's last gig with them was 13/6/60 at the 'Jac' atfter letting them down at the Grosvenor the night before.
.....BACK FROM GERMANY....

Town Hall Ballroom, Litherland, Liverpool, 27th Dec 1960, & from now on, The Beatles seemed to be increasing in popularity very quickly. They played here another 19 times, for promoter Brian Kelly (BK) The poster is clearly made up but I'll put an original on when I find one !

Aintree Institute, Liverpool, 7th Jan 1961, they played here 31 times.

Alexandra Hall, Crosby, 19th Jan 1961, they played here once, for BK.

Mossway Hall, Croxteth, 17th March 1961. They played here just once.

......AND SO BACK TO GERMANY......

Click on the Apple link above

......AND BACK FROM GERMANY AGAIN......

Holyoake Hall, Smithdown Rd., Liverpool, very near Penny Lane, the Beatles played here twice, on 15th July & 22nd July 1961. It is also known that The Quarrymen played here sometimes in 1957.

I am told that this is the MV Royal Iris, the ferry they played on 4 times, and was known as the Riverboat Shuffle, between 25th Aug 1961 & 28th Sept 1962. The vessel lies now on the Thames near Woolwich, below - sad.

Knotty Ash Village Hall, 8 gigs between 15th Sept 1961 & 17th March 1962.

TOWER BALLROOM, NEW BRIGHTON

Blue Gardenia Club, St Annes Court, Soho, London. 9th Dec. They popped in to play here, a short lived club run by Brian Cassur of Cass & The Cassanovas, after Aldershot.
was it 20 St. Anne's Court or Wardour mews
10th Nov 1961 saw them at New Brighton, in many ways, a massive gig for them, promoted by Sam Leach, being the first of about 27 appearances here, up until June 1963. The tower was taller than Blackpool Tower, the ballroom capacity was 5000 and the whole place was mysteriously burnt down in 1969. There remains nothing of it's past sadly.

9th Dec, Palais Ballroom, Aldershot - not well planned etc. - 18 customers enjoying their 1st trip this far south.!

(All images above reproduced)

The actual position of the old Cavern door, placed in Jan 2007marking 50 yrs since it's opening

The site where St Johns Hall, Bootle stood. They played there 5 times from 6th Jan to 30th July 1962..

Hambleton Hall, Huyton. 16 appearances here from 25th Jan to 13th Jan 1962.

Blair Hall, Walton, the 1st appearance on 5th Feb, they played there 5 times, all in 1961, before and after (above Co-Op)

Liverpool Merseyside Civil Service club - no sign of it now - it was down here somewhere ! 5 gigs here between 7th Feb & 28th Nov - for any football people Tommy Smith used to run it.  

Cassanova Club, Liverpool LondonRd,11th,14th,16th,21st & 28th Feb & 7th & 12th March*
-corner of London Road & Fraser St, known as Sampson & Barlow's, courtesy of Peter Killick - thanx.
17th Feb they played here, St Johns Hall, Tuebrook. They played here 10 more times up until 8th Sept 1961.

Liverpool Jazz Society
David Lewis Club, Liverpool. Just 1 gig  17th Oct. It is now demolished with no sign even of the street, again courtesy of Peter Killick
The site of the Albany Cinema, Maghull, just 1 gig on 15th October and as it was.

The actual stage at St Peters Church Hall
THE CAVERN
The Casbah Coffee club, 8 Hayman's Green, W Derby, Liverpool, 29th Aug 1959 and onwards until 24th June 1962. The home of Pete Best,run by his mother, Mona. You can visit this historic venue - have a look at Pete Best's site for details
On the first time they played here, Tommy arrived without drums ??? so Cliff Robertsm (right) of Kingsize Taylor & the Dominoes stood in for this night only
Johnny Gentle (John Askew) (pic is at Alloa) Notice the billing as Johnny Gentle & His Group.
Tommy Moore (finally) He went back to work at the bottle factory when he got back. He died in 1981
Johnny Hutchinson. Played on the audition at first and also between Pete being sacked and Ringo starting (16/17.8.62) Died April 2019
Norman Chapman stood in on drums for 3 Saturdays at the Grosvenor 18/6,25/6 and 2/7
Sadly Norman died in 1995 aged 58 from cancer.
When they got back from Hamburg, Stu stayed on, so for 4 gigs they employed Chas Newby on bass for 4 gigs, 17/12/60 Casbah, 24/12/60 Grosvenor Ballroom, 27/12/60 Litherland Town Hall and 31/12/60 Casbah again
<![if !vml]>

<![endif]>
<![if !vml]>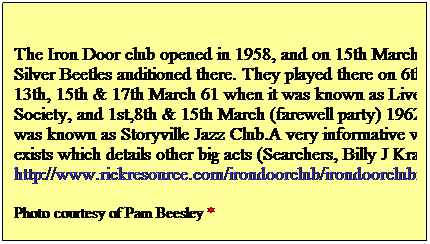 <![endif]>
19th Nov 61 they played the 3 coins, Manchester, which has long gone. They returned on 27th Jan 63. Jimmy Saville had a big part in the club. No pictures of the original club can be found, just like the Oasis.